Modern Prefab House Projects: See ALLLLLLLLLLLL our latest Prefab Homes Under Construction And News, Here.
FEATURED PREFABS:
A Dogtrot Mod, modified for the Pacific Northwest: WOLFTROT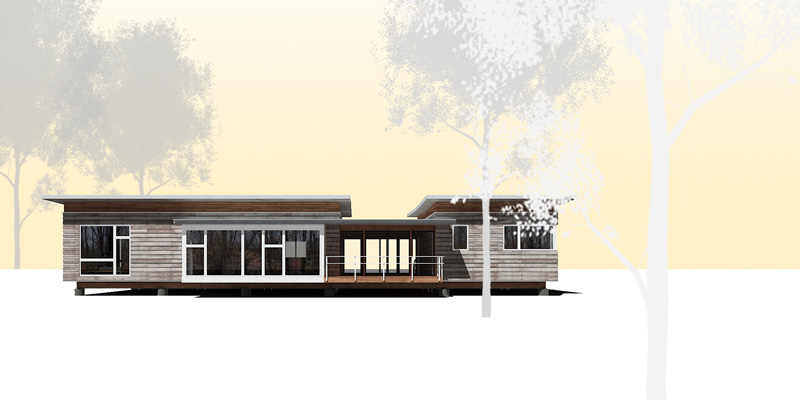 Without further ado, I present updates on our *modified*
Dogtrot Mod
in the Pacific Northwest,
Wolftrot
, from my favorite English-engineer-moved-to-the-USA-once-lived-in-a-castle-now-wants-a-prefab couple!
For reference, you can see the original prefab modern cabin house Dogtrot Mod, here. The clients were encountering delays because of site-specific issues like grading challenges, and local material challenges.
Let's start with the local material challenge: CONCRETE.

On a sloping lot, with a desire for slab -and- a half basement, our clients have run into some concrete vendor and application issues, one of them being that a British company has purchased all the local concrete plants and, upon taking ownership, significantly increased concrete costs.

So they were looking at alternatives.
Read all about the Wolftrot prefab house project! >>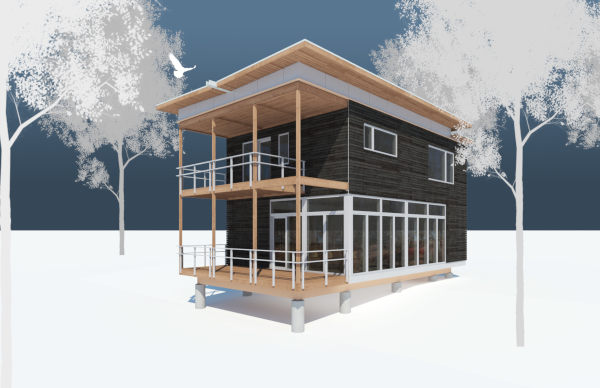 Let's check in with our client who is building a modern prefab
CornerHouse
from
Green Cabin Kits...
in the southwest.
When undertaking this project, Justin put great deal of care into finding a design that would complement the unique beauty of the area and when he first discovered the CornerHouse plan, he knew immediately it would be a perfect fit.
Click to begin this prefab modern cabin project journey >>
This modern prefab is being built "backwards"- a tiny house (the guest area) constructed first, then the main living areas added later.
"...the little unit is so beautiful with the Iron Grey rainscreen and windows that look in all 4 directions! I can't wait to "move in" and start spending time in this healthy place. A fridge, sink, and stove will be installed in the North room, all necessary to receive an occupancy permit."

[Note: Don't forget an ERV or HRV for fresh air exchange in tight, energy efficient homes!]

She mentioned the contractor did not have green materials experience, so this is one more example of our prefab house kits adding green building skills and knowledge into each community, which makes me very happy.
Follow this SIP prefab house here.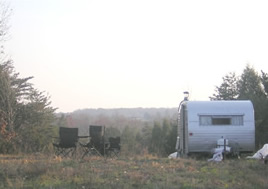 casa ti:
An Off Grid rural house
...Done in stages.
Phase 1:
Fell in love with and purchased rural land.
Phase 2:
Got a solar cooker
.
Phase 3:
Composting toilet
purchased.
Phase 4:
Oh wait, NOW we start to build!
; )
This modern cabin is from the
Green Modern Kits
line of modern prefab homes
.
Click here to read more about the casa ti prototype >>
Head on over to our sister site for green passive solar design PREFAB HOUSE KITS with another modern twist.