About Us:
Copeland
Casati
founded
Green
Modern
Kits
in 2006,
Green
Cottage
Kits
in 2008, and now,
Green
Cabin
Kits
. Although a modern enthusiast, she grew up (and her parents still reside) in a home built in 1801. A Virginia native, she appreciates old farmhouses, modern cabins, Victorian brownstones, high design and... little cabins in the woods (saw a rabbit hoppin' by, knockin' at my door...).
Because energy efficient great design IS timeless.
Here, cabins can be modern! Or traditional!
A passion for environmentally-friendly, affordable housing and concern over our earth propelled her to gather green building architects to help other people achieve home ownership with green building beautiful design; to invest in homes they can not just afford, but of which to be passionate, for all their life stages.
Damon Pearson, Architect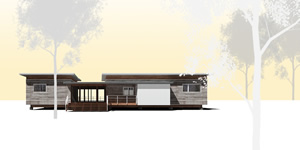 Architecture is one of the last truly generalist professions. It requires cognizance of many different factors, be they technical, political, or scientific, and comprehension of their potential effect through a built intervention. It is both the pleasure and the obligation of an architect to arbitrate these factors. Damon's approach to architecture reinforces this view. His work looks first to those things affected by a building, be they the site, the city, or the environment, and uses them to form architecture that is contextually appropriate and catalytic.
Over the course of his career, he has shaped a breadth of different project types including private residences, public and private schools, athletic facilities, art centers, multi family housing, adaptive reuse, and urban design. Damon is a graduate from the masters of architecture program at Princeton University, and the undergraduate architecture program at the University of Virginia. He has practiced at several internationally recognized firms and regularly contributes to competitions, publications, and architecture organizations.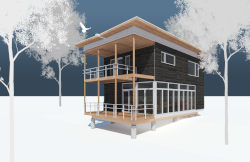 We have assembled a team of fabricators, designers, and contractors to form a multidisciplinary collaborative with a passion for both exploring and realizing cutting edge design.
Our diverse backgrounds, ranging from metal working and sculpture to architecture and industrial design, provide us with a breadth of expertise to approach challenges from all angles. We see every project as an opportunity for our client's to engage our broad range of talent, just as we see our diverse client base as a way to continually invigorate our design process.
In simplest terms, we are designers and fabricators: our design is innovative because we are fabricators; our fabrication is exceptional because we are designers.